To View and/or Save the Full-Size Versions
1. Left click the thumbnail to load the full-size picture and save it.
2. Right click the thumbnail and save target as to save the full-size.
Please Link Back If Reposting Or Using Photos For Edits
Hi Res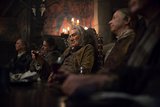 Back to Outlander Season 2

Production Stills From Outlander Season 2 Are (C) Starz and Sony Television.
Photos Have Been Posted Here For Non-Commercial Promotion Of The Show.